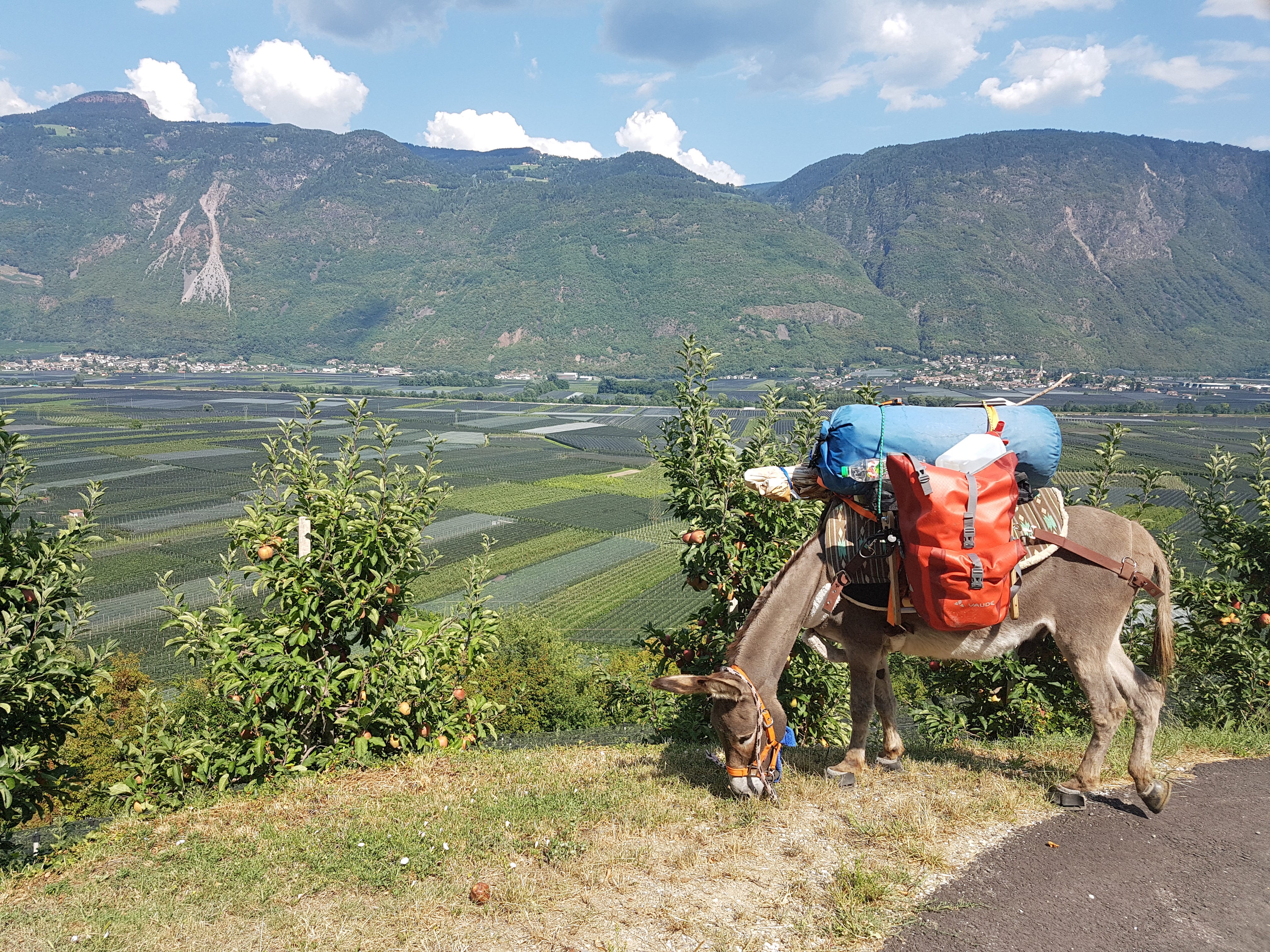 We started in Percha/Munich, crossed the alps and finished at Sottomarina/Chioggia/Venezia.
We passed Garmisch Partenkirchen, the Fernpass, Imst, Landeck, the Reschenpass, Meran, Bozen, Trento, Caldonazzo Lake, Bassano del Grappa, Padua and Chioggia.
From Percha at Starnberger Lake to Murnau
On the 9th of Juli we started our trip in Pecha at the Farm eselwandern.bayern, where Jonny lifes togehter with 7 other donkeys. The first day we were in company and already had a place to sleep at a farm. From theseccond day on Jonny and me left the others and carried on. It took us four days to arrive Murnau, where we had a break at a friends place for the weekend.
From Murnau to Griesen
From Murnau my friend Bine joined us for three days, so we were in god company. We passed Eschenlohe and Farchant and walked all the way through Garmisch and Untergrainau to Griesen and finaly we reached the Austrian boarder.
Griesen to Fernpass
From Griesen we carried on and passed Ehrwald, Biberwier, the Wiesensee, hiked up the Fernpass until we reached the Fernsteinlake.
Fernsteinlake to Imst
On our way to Imst we passed amaing views and a beautiful landscape.
Imst passing Landeck to Urgen
an amazing vally and great memorie.
Landeck/Urgen to Pfunds
We met so many amazing people who invided us to stay.
One week at Native Spirit
We stayed and worked one week at Native Spirit. A very special experience. I will defenetly return to this amazing place.
Passing the Reschenpass - Hello Italy - Reschenlake
The Reschenpass was a big challange, but in fact, we made it! I am so proud of Jonny. It was very steep and a dangerous road. I am so glad we have passed this now. It's amazing to arrive Italy by feet!
Kiten at Reschenlake
We took a break for a few days to relax. I went kitesurfing and Thomas visited us for a few days.
Reschenlake to Laas
A few days Jonny and me were on our own. We stayed in a backyard, in a cow barn with a mouse and in the forrest.
Laas to Plaus
Between Laas and Plaus my mom joined us for a few days. At one family Jonny was allowed to enter the living room like in a Pippi Longstalking movie.
From Plaus to Meran
We followed the bikeline and found an amazing few above Merano City.
Merano to Bolzano
We did not follow the bikeline anymore. I just found some nice roads through the wineyards and the apple plantages. There were no feelds anymore to stay for a night. From now on we always had to ask privat families if we are allowed to stay.
Missan to Kurtatsch
From Missan to Kurtatsch we were in company of my boyfriend Thomas. Two nights we stayed with ten kids and four adults in a house at Kalterer Lake.
Kurtatsch to Nave san Felice
Jonny and me were alone again. Onw night we stayed in a chickenstable. I tried to wash myselfe while i was standing in the "Shit". It was quite funny in the end and we had a break at the camping Moser.
From Trento to Bassano del Grappa
I am so glad we were able to pass Trento. It is such a big city and walking through it with Jonny would just have been very stressful. We followed the Via Claudia witch brought us up to the wineyards to the left of Trento and so we were able to follow the bikeline to the next vally and to Caldonazzo Lake.
At the lake we took a break for one day and enjoyed the sun. After we did follow the Bikeline again through some apple plantages and Maisfeelds. We gave an interview for the Trentino Newspaper and RAI Tv picked us up at the bikeline to take some videos. We met so many amazing people and always found an comfortable place to stay. The Italians are just crazy about Jonny when they see him. One night Jonny escaped and I had to pick him up at a neighbours place in the middle of the night.